Over the years we have sold many brands of goggles here at Honda House.  One brand has been outselling all others.  I am talking about the 100% brand goggles.  They make three different types that cover different rider levels, needs and ages.  You get the same high quality anti-fog, scratch resistant Lexan lens with every model that fits all three off road 100% models.  This also means that the same tear offs will fit every model.  These two features mean that it will be easy to pick them up when you need them.
Let's take a look at the entry level goggle.  The Strata, (retails for $25-$35), is the base model in the dirt goggle line, they also make youth sizes for kids.  The Strata it great for new riders or people on a budget.  The frame breathes well and has plush dual layered face foam to soak up sweat and keep you cool and comfortable.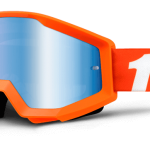 The Accuri, (retails for $45-$60),   Is the mid level goggle that offers the same features as the Strata but it also has triple layer foam for more breathability and moisture management.  It also has an oversized silicon coated strap to keep your goggles tight to your helmet and face.  The Accuri is also made in a over the glasses version that fits most glasses.  This model is geared toward intermediate rider that needs more moisture management and aggressive fit.  Also available in youth sizes.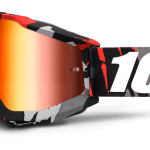 The Racecraft, (retails for $65-$75), is your top of the line race day ready, gab and go goggle from 100%.  This model has it all.  Special frame outriggers to prevent frame distortion for perfect fit and balance.  Comfortable foam liner with special air intakes that channel air into the foam to aid in moisture management.  They also come with a stack of tear offs and a removable nose guard.  If you get a tinted model it also comes with a clear lens.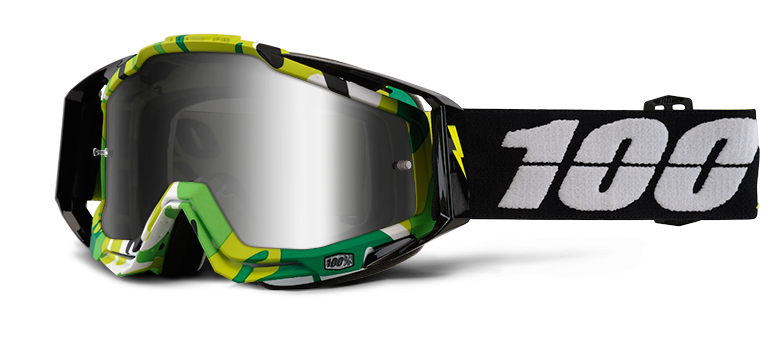 100% has quickly risen to the top in the goggle market and has changed how the industry looks at goggles.  They are available in a wide variety of colors and styles.  I highly recommend the 100% line of goggles to everyone looking for a goggle that can do it all on any budget.  They also make models for winter sports as well with vented and non vented dual pane lenses to prevent fogging.  Come in and see what model is right for you.  Remember to ride 100%.